Structure of Board :
Chairman   Jenny Zhan
Vice Chairman   Han Zhang Feng (Publicizing)
Grants Application   David Yuan,  Qing Zhan
Secretary   Lisa Zhang
Managing Director :

Ava Wu,  Lisa Zhang

Conductor and Art Director: Shuang Guo
 Dr. Guo has performed concertos with Berlin Symphony Orchestra in Germany, Rannana Symphony Orchestra in Tel Aviv, Chinese Woman's Philharmonic in Beijing, KansasCity Camerata and Santa Fe Symphony Orchestra. She has given recitals in Germany, China, Israel and the United States. In addition, by including Chinese compositions into her recital programs, she demonstrates commitment to further understanding of Chinese music in the western world.
 As a conductor, Dr. Guo has conducted European orchestras such as the Berlin Symphony Orchestra, Helsinki Philharmonic Orchestra, Helsinki Radio Symphony, New Brandenburg Symphony, Jerusalem Symphony, Rannana Symphony in Israel, Brasov Philharmonic Orchestra in Romania, Kansas City Camerata, and Qingdao Philharmonic in China. She held the position of Principal Conductor of Woman's Philharmonic Society in Beijing.
For the past 10 years, Dr. Guo serves as the Music Director of 2 choruses in NJ, Chinese American Music Ensemble and Knowledge of Sound (Zhiyin) Chorus. Her recent appearance as the guest conductor of Westfield Symphony Orchestra and 130 piece Chinese choruses in May 2010 was in the performance of Yellow River Cantatamost beloved Chinese choral and symphonic work. As the conductor of the Woman's Philharmonic in Beijing, Dr. Guo often appeared as pianist and conductor simultaneously. She and her sister Xiang Guo have performed piano duet extensively in China. Their tours were broadcasted by Chinese regional TV stations.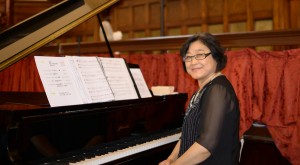 Piano Accompanist:  Di Hua Lin
Professor Lin has served as Haiyun chorus pianist since 2002. She was a former Tianjin Conservatory of Music professor of keyboard, member of Chinese Musicians Association. She won the national Choral Festival accompaniment in 1991 Beijing. France Baxter professor of Los Angeles California University had recognized on her playing a seamless heavenly robe with full emotion of technical skills. The repertoire of the requirements for each is quite keen. Her graceful tweedle